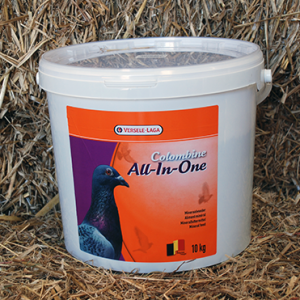 Quick View
Colombine All In One grit and mineral supplement is a grit and mineral combination, carefully balanced to provide the very best nutrients for your racing pigeons needs. Administer daily 1 tablespoon per pigeon in a small pot. Refresh daily and always provide fresh drinking water.
Mixture of minerals, vitamins and grit
Colombine All-In-One promotes health through the rich, balanced composition using natural ingredients.
A total mix of vitamins, minerals and grit
Promotes health and a good general condition
Smooth ingestion thanks to the mix with Sneaky Mixture & Optimal Start 25
Quick View
OPTI LIFE CHICKEN 81%
81% of the proteins present are of animal origin and, in combination with rice, they also ensure a smooth digestion and a good consistency of the droppings. The very tasty composition does not contain any gluten, so without wheat or maize. This reduces the risk of food allergies and intolerances.
OPTI DIGEST
A good intestinal flora is the basis for an optimal digestion. FOS and MOS have been added to support a healthy intestinal flora.
OPTI HEALTH
We provide extra support of your dog's resistance with the addition of natural antioxidants (rosemary, green tea) and additional vitamin C and vitamin E.